2018 inaugural Commonwealth Elders' Forum
Working in close collaboration with the National Care Forum, Care England, Age International and the International Longevity Federation (UK), the first ever Commonwealth Elders' Forum will be held in UK 16 – 17 April 2018.
The Ageing in Common: An International Perspective featuring the inaugural Commonwealth Elders' Forum and the NCF UK Care event will be held at DeVere Wokefield Estate Hotel and Conference Centre, Berkshire, UK and is for professional leaders from across the Commonwealth.
This event is linked to the 2018 Commonwealth Heads of Government Meeting (CHOGM). At this meeting leaders from all the Commonwealth member countries will gather in London and Windsor to address the shared global challenges we face and agree how to work to create a better future for all our citizens.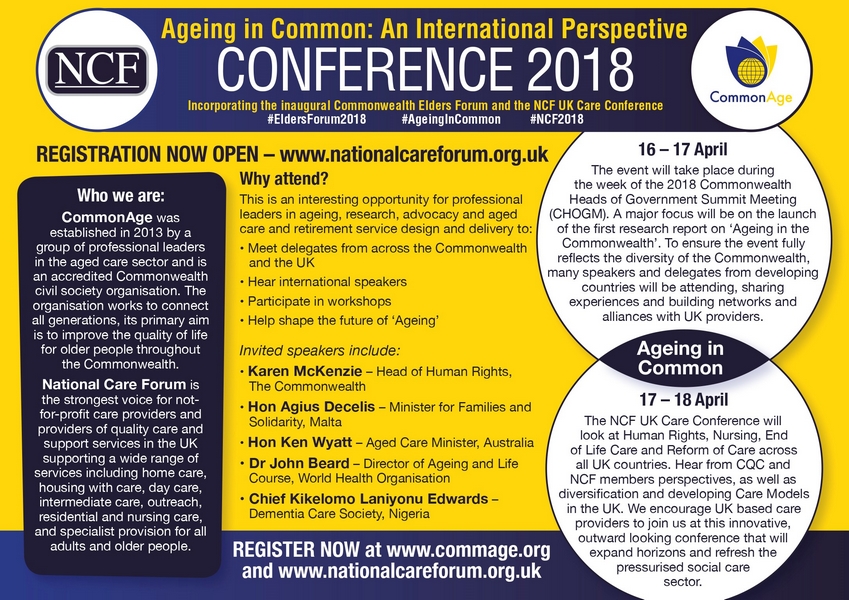 Enter – username: COMMONAGE  and  password: NCF
Please ensure you press CONFIRM at the end of the registration process, this will finalise your registration. Once this is done you will receive an email to the address you submitted. If you do not receive this within 24hrs, please contact Eventpro UK, +44 1509 610 452 or marie@eventprouk.com
Exhibitor opportunities
If you are interested in exhibiting at this exciting forum or would like to know other sponsorship opportunities, please contact John Kennedy on coord@commage.org

Our bursary scheme aims to provide some financial support to delegates from developing countries to attend the event. This scheme is sponsored by Quality Compliance Systems.
Applications are now closed
Click here to download the application form and the terms and conditions.
This form is in a pdf format. Please complete all information requested on this form, including required signatures, then scan and email to klaus.zimmermann@commage.org.
CommonAge/SAGE Study Tour of UK social care services 4 – 14 April 2018 and entry to Elders' Forum, 16-18 April 2018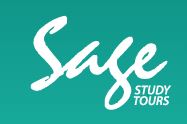 Created with our partner SAGE tours, this exciting study tour is designed to give SAGE delegates insight into the Seniors Living systems of United Kingdom. During the study tour, participants will visit the most significant public and private institutions from a regional and national perspective. Visits to the elder care facilities will highlight, not only successful commercial models in the field, but will also give an overview of the current UK system of elder care.
With a maximum of 12 people, the post-tour includes entry to the CommonAge Elders' Forum.
Click here for details or visit www.sagetours.com.au.
We intend to hold further 'Forums' linked to future biennial CHOGMs – the next one is planned to take place in Malaysia, 2020.