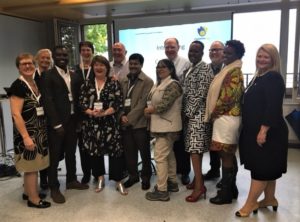 Thanks to the generous support of Curaviva and international aged care providers and supporters, our 2017 scholarship fund enabled six delegates from developing Commonwealth countries to be a part of the Global Ageing Network/Curaviva Global Ageing Conference, 18-21 September 2017, Montreux, Switzerland.
Hear are just some of the reflections from our delegates:
Learning from world leading experts
"I was particularly impressed with the delivery from Prof Dr Markus Hengstschlager who advocated for continuous self-development in order to challenge the status quo. There was a fascinating presentation on social robots by Prof Dr Nadia Magnenat-Thalmann, which gave a futuristic look into aged care.  Though majority of the speeches were not specific to the aged care industry, the central theme of hard work and dedication to one's profession was very clear," says Maxwell Larwe, Senior Physiotherapist, Ghana. "There were a lot of impressive stalls related to the aged care industry on display during the conference, from medical supplies to care home facilities. Coming from a rehabilitation background, I was very impressed with the top notch rehabilitation and fitness equipment on show."
Exhilda Siame, Clinical Long-Term Care Nurse, Zambia feels it was gratifying to see hundreds of delegates from all over the world not only celebrate Aging success stories but also share their concerns about the topic. "Experiences of celebrated speakers who discussed aging through their personal journeys were intriguing and eye-opening," she says.
Maurine Jam, Research Officer, Cameroon says the Global Ageing Network Workshops were rich with many interesting presentations.
Networking opportunities
Daksha Bhat, Founder Silversmile Eldercare Foundation, India, says it was heartening to meet people who are doing wonderful work, and interact with them and learn about their work. "I hope to be able to grow some of the contacts I made into a gainful network that will help me in my work in India," he adds .
Maxwell highlights there was a lot of networking opportunities available and he was glad to take advantage of them. "During the commonage AGM and workshop, I was able to discuss ageing in Ghana with a number of people there. The dinner and social event also presented me with the opportunity to network with a lot of industry players in the aged care industry," he adds.
Sharing experiences
Mehedi Hasan Khan, Associate Professor Bangladesh says many were astonished to learn the absolute number of the aged people in his country, which is now about 10.4 million. "Some were surprised to know the existence of a Parents Maintenance Act in our country where adult children are legally responsible for the safety, maintenance and security of the aged parents," he says. "A Malawi participant wanted to hire me as a sociologist to find out the causes of witchcraft in their society by which aged people become the most victims."
Maxwell points out were also productive discussions with fellow scholarship recipients plus he had the opportunity to participate in radio talk show with Exhilda. "I was also able to discuss my PhD project on dementia in Ghana with a professor from the University of Alberta, Canada," he says.
Inspirational
Mehedi says, overall it was a very successful professional experience. "I do believe that my newly established professional relationship with CommonAge will extend further and thereby strengthening  my capacity to work for the causes of the aged people in home and abroad in most direct and indirect ways," he says.
The CEO/Founder Angels Healthcare Network, Kenya, Patricia Mukayagi says the participants of the conference were high profile executives and professionals. "They challenged and gave a new impetus to our program for the elderly through our non-profit organisation Angels Healthcare Network Ltd."
Meanwhile, Daksha reflects the primary realisation that I brought home from the Curaviva conference and all the wonderful people there is that there is a lot that is possible. "Though I did see that India has a really long way to go before we can start adopting and benefiting from the various technologies and aids that were displayed at the conference, I do feel that it strengthened my desire and ability to advance the quality of services that are available to the elderly in India," he says.
Maurine says she counts herself lucky for having the opportunity to acquire knowledge that will be of use to the most vulnerable but most important persons of every society.
The final word goes to Exhilda, who sums up her experience as follows:
The Montreux Experience is one that will go down in my memory lane for a long, long time. Aside from the city being one of the most beautiful and serene places I have ever been to, the Global Aging Conference and its deliberations confirmed one thing I have quietly been thinking about – that Aging is an Urgent Global Healthcare Issue.