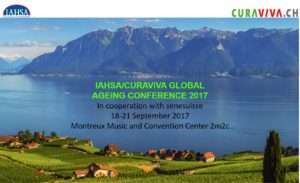 A message from Dr. Ignazio Cassis, President, CURAVIVA Switzerland.
Dear All
The 7th staging of the Aged Care Congress by CURAVIVA Switzerland takes us to Lake Geneva. I extend a warm welcome to you from 18 to 21 September 2017 at the Congress Centre in Montreux.
The retirement and nursing home sector is facing considerable challenges now. The demographic development and the limited increase in financial resources need to be reconciled. Our daily work will have to adapt to societal changes: we are being asked to find intelligent solutions that will continue to make life in our homes rewarding – both for our residents as well as for the staff.
However, solutions can only be found once problems have been resolved. Adhering to its successful concept, the 2017 Aged Care Congress will again have a wide range of subjects on the agenda, the discussion of which is intended to generate useful ideas for practical applications.
The subjects are divided into four areas:
New technologies for health care and future long-term care
End-of-life forms of care and nursing
Staff and management
Ethics and mental health in today's workplace
The 2017 Aged Care Congress will be held in conjunction with the IAHSA, the International Association of Homes and Services for the Ageing. This international participation gives us the advantage of being able to offer you additional insights into the practices of other countries and we look forward to lively discussions in this respect. It therefore gives up great pleasure to be able to invite experts from around the world to Montreux. All of the presentations in the programme of plenary and optional events will have simultaneous interpreting, as in the past.
Apart from the congress, Montreux with its Mediterranean elegance is an outstanding excursion destination. Be it a day trip into the mountains, a visit to the wine-growing region of Lavaux – a UNESCO World Heritage site – or a boat trip on Lake Geneva – a visit to the Montreux region will always prove worthwhile.
We look forward to being able to welcome you in Montreux in September 2017.
Speakers of the plenary sessions include:
– Prof. Dr. Markus Hengstschläger, Director of the Institut of Medical Genetics at the University of Vienna
– Dr. Gottfried Locher, President of the Federation of Swiss Protestant Churches
– Prof. Dr. Nadia Thalmann, Foundress and director of MIRALab, CUI, at University of Geneva
– Dr. Thomas Zeltner, President of Science et Cité and former Director-General of the Swiss National Health Authority
Please register online for the conference: www.congress.curaviva.ch.